out soon on
Battlesk'rs productions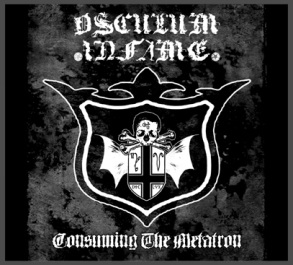 OSCULUM INFAME
"Consuming The Metatron"

CD Digisleeve - SK'R025
Strictly limited to 777 handnumbered copies
Two years after "Quwm",
OSCULUM INFAME
comes and brings forth a new opus recorded during 1999 & 2011 at AMSG Studio by Malkira and Deviant.
Mixed and Mastered by Xort at Drudenhaus and Masterlab Systems.
A 6 tracks long opus
"Consuming The Metatron"
. Featuring new and unreleased material, one track from 2011 called "Inner Falling for the Glory of God" and five tracks coming from their last recording session and from an unrealeased album recorded early in 1999 under the title "The Serpent of The Ages".
"We arise, worse than ever, to spread our black filth.
We were, we are and we shall be again, at war against the mass,
coming in total hate and disgust and we fuck em all."

Listen the new track
"Inner Falling of the Glory of God"
here :
http://soundcloud.com/necrocosm/osculum-infame-inner-falling
this release will be exclusively distributed by Necrocosm (Worldwide).
Distributors interesting to spread this poison need to contact : wholesale (at) necrocosm d-o-t org
KILL FOR HIM!
http://WWW.BATTLESKRS.COM