(j'ai terminé d'éditer ;-))
CunninLynguists
Style : Hip Hop
Facebook :
http://www.facebook.com/CunninLynguists
Myspace : www.myspace.com/cunninlynguists
Bandcamp :
http://cunninlynguists.bandcamp.com/
Line Up :
Kno (Ryan Wisler)
Deacon The Vilain (Willis polk II)
Natti (Garrett Bush) (Depuis 2005)
Mr SOS (David Diaz) (De 2002 à 2004)
CunninLynguists est un groupe de Hip Hop américain formé en 2001, originaire de Lexington dans le Kentucky et d'Atlanta en Géorgie, actuellement composé de Deacon The Vilain et Natti tous deux chanteurs, et de Kno qui lui s'occupe de toute la partie composition.
Les débuts se font sous la forme d'un Duo autour de Kno et Deacon qui sortent leur premier album Will Rap For Food (dont le nom fait référence à un passage du clip de Fuck Wit Dre Day par Dr Dré) en Octobre 2001 sur le label Urban Aces (réédité par Freschest en 2005). La production est en partie assurée par le duo mais également par Celph Titled (membres du supergroupe Army of the Pharaohs). Ce premier opus marque fortement l'identité du groupe notamment au niveau des thèmes abordés qui le démarque fortement du gangsta rap (style qu'ils satirisent sur le morceau Thugged Out Since Club Scouts) et le rapproche inexorablement de l'abstract hip hop. SoutherUnderground, deuxième album de CunninLynguist voit le jour en Avril 2003 chez Freschest, peu de temps après l'arrivée d'un nouveau vocaliste au sein du groupe en la personne de Mr SOS. On retrouve à la production Kno accompagné de RJD2 et Domingo issu du label QN5 dont plusieurs artistes font une apparition sur l'album (incluant le fondateur Tonedeff). Le single Seasons voit également le rappeur Masta Ace collaboré avec le groupe. Entre 2004 et 2005 un changement de line up s'opère avec le départ de Mr SOS et l'arrivée de Natti. Le troisième album du groupe : A Piece of Strange sort en janvier 2006 chez QN5 (à la même période Deacon et Kno décide de s'associer et créent leur propre label : APOS Music), il est intégralement produit par Kno (ce qui sera le cas sur tous les albums qui suivront). Comme à l'accoutumé on y retrouve des featurings dont Cee-Lo Green, Immortal Technique et le désormais très récurent Tonedeff. L'artwork a été réalisé par Becky Cloonan une créatrice de comics américaine qui a également travaillé avec Leftöver Crack. Le groupe réalisera bon nombre de premières parties durant la tournée de promotion de l'album dont celles de Kanye West, Pharrel Wiliams et The Strokes qui lui permettront d'acquérir une plus grande notoriété. Dès l'année suivante Cunninlynguists s'attaque à un quatrième opus qui voit le jour en Novembre 2007 et qui bénéficie de la colaboration entre APOS Music et Bad Taste Records (label suédois chez qui figurent Danko Jones et Satanic Surfers). Parmis les apparitions sur Dirty Acres on retrouve Devin the Dude, Phonte de Little Brother et Witchdoctor de Dungeon Family. Après une période plus longue que d'habitude (due notamment à la carrière solo de Kno et la sortie de son premier album Death is Silent) Oneirology le cinquième album sort en Mars 2011 conjointement chez APOS et QN5. L'artwork a été crée par la néerlandaise Lois van Baarle. On retrouve sur Oneirology des collaborations avec Big KRIT, Freddie Gibbs et une nouvelle fois Tonedeff. Parallèlement à ses cinq albums CunninLynguists a travaillé sur plusieurs Mixtapes dont Sloppy Seconds en deux volumes sorties en 2003 et 2005, ainsi que Strange Journey (également en deux volumes) en 2009.
Nom : Will Rap For Food
Année : 2001
Producteur : CunninLynguists, Celpf Titled
ASIN : B00070Q8GI
Nombre Titres : 18
Labels : Urban Aces, Freschest
Tracklist :
01 Will Rap For Food
02 Lynguistics
03 Mic Like A Memory
04 So Live!
05 Hey
06 Fuckinwichu
07 Ain't No Way
08 Missing Children
09 Midnight
10 Thugged Out Since Cub Scouts
11 Kno's Diggin'
12 Halfanimal
13 Family Ties
14 Dirty South
15 Mindstate
16 Takin' The Loss
17 Not Guilty
18 616 Rewind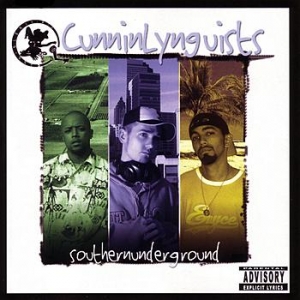 Nom : SouthernUnderground
Année : 2003
Producteur : Kno, RJD2, Domingo
ASIN : B00008XURU
Nombre Titres : 16
Labels : Urban Aces, Freschest
Tracklist :
01 Intro
02 Southernunderground
03 The South
04 Love Ain't (feat. Tonedeff)
05 Rain
06 Doin' Alright
07 Interlude 1
08 Old School
09 Seasons (feat. Masta Ace)
10 Nasty Filthy (feat. Supastition & Cashmere the PRO)
11 Falling Down
12 Sunrise/Sunset
13 Interlude 2
14 Appreciation [Remix] (feat. Cashmere the PRO)
15 Dying Nation
16 War
Nom : Sloppy Seconds Volume One
Année : 2003
Producteur : CunninLynguists
ASIN : B0000AYLK0
Nombre Titres : 20
Labels : Freschest
Tracklist :
01 Were From The Internet
02 Pump It Up (Freestyle)
03 Watch Yo Mowf
04 Over The Hills
05 PTA
06 Skew It On He Bar B (Freestyle)
07 Chico And The Man
08 Love Aint (Remix)
09 Deacon The Villian
10 Affirmative Action (Freestyle)
11 Sticky Green
12 Earths Essence
13 If U Only Knew
14 Off The Chain
15 Mic Like A Memory (Remix)
16 The Fellationelles
17 Nasty Filthy (Remix)
18 Irrational
19 Dem Thangs (Freestyle)
20 Never Scared (Philaflava Drop Remix)
Nom : Sloppy Seconds Volume Two
Année : 2005
Producteur : CunninLynguists
ASIN : B000BUNYQQ
Nombre Titres : 27
Labels : QN5
Tracklist :
01 Cornasto
02 WQN5 Station ID #1
03 Play Hard
04 The Party (Skit)
05 What They Playin? (Blow my High)
06 Being Human's Hard
07 Fear
08 Clap
09 QN5 Station ID #2
10 Wachugondo?
11 Break Even"Featuring Tripp Doogan
12 Brain Over Muscle
13 Time (What is It?)
14 Friendgirl
15 Porcelain (Remix)
16 Miss Lady
17 Til' the End (C.A.L.I.)
18 The Talk" (Skit)
19 Since When?
20 Mind Won't Behave
21 It's Over
22 Be Free (Remix)
23 W.C.G.
24 Diamond Sky
25 WQN5 Station ID #3
26 What'll You Do?
27 Outro
Nom : A Piece of Strange
Année : 2006
Producteur : Kno
ASIN : B000C0X45G
Nombre Titres : 16
Labels : QN5
Tracklist :
01 Where Will You Be ?
02 Since When
03 Nothing To Give
04 Caved In (feat.Cee-Lo Green)
05 Hourglass
06 Beautiful Girl
07 Inhale (Interlude)
08 Brain Cell
09 America Loves Gangsters (feat.Tim Means)
10 Never Know Why (feat.Immortal Technique)
11 The Gates (feat.Tonedeff)
12 Damnation (Interlude)
13 Hellfire
14 Remember Me (Abstract Reality)
15 What'll You Do ?
16 The Light (feat.Club Dub)
Nom : Dirty Acres
Année : 2007
Producteur : Kno
ASIN : B000X1AERA
Nombre Titres : 15
Labels : APOS Music, Bas Taste records
Tracklist :
01 Never (feat. Big Rube)
02 Valley Of Death
03 Dirty Acres
04 Kentucky (Interlude)
05 K.K.K.Y
06 Wonderful (feat. Devin The Dude)
07 Yellow Lines (feat. Phonte and Witchdoctor)
08 The Park (Fresh Air) (feat. Chizuko Yoshihiro)
09 Summer's Gone
10 They Call Me (Interlude)
11 Gun (feat.Sheistry Khrist)
12 Dance For Me
13 Georgia
14 Things I Dream
15 Mexico (feat Club.Dub)
Nom : Strange Journey Volume One
Année : 2009
Producteur : Kno
ASIN : B001V88D6S
Nombre Titres : 16
Labels : APOS Music, Bas Taste records, QN5
Tracklist :
01 Departure (Intro)
02 Nothing But Strangeness
03 Lynguistics (Live in Stockholm)
04 Move
05 Spark My Soul
06 Never Come Down (The Brownie Song)
07 Hypnotized
08 Dance for Me (Remix)
09 Die for You
10 White Guy Mind Tricks
11 Georgia (Remix)
12 K.K.K.Y. (Remix)
13 Don't Leave (When Winter Comes)
14 The Distance
15 Broken Van (Thinking of You)
16 Billy Joe's Garage (To Be Continued)
Nom : Strange Journey Volume Two
Année : 2009
Producteur : Kno
ASIN : B001V88D6S
Nombre Titres : 16
Labels : APOS Music, Bas Taste records, QN5
Tracklist :
01 Departure – Part 2" (Intro)
02 Imperial
03 The WWKYA Tour" (Remix)
04 Streets
05 Heart
06 To Be for Real
07 Tear Trax
08 Still With Me" (Remix)
09 Close Your Eyes
10 Pit Stop
11 The Park
12 Nothing to Give" (Live)
13 Cocaine
14 Running Wild
15 Everywhere
16 Arrival (Outro)
Nom : Oneirology
Année : 2011
Producteur : Kno
ASIN : B004KRQF58
Nombre Titres : 15
Labels : APOS Music, QN5
Tracklist :
01 Predormitum (Prologue)
02 Darkness (Dream On)" (featuring Anna Wise of Sonnymoon)
03 Phantasmata
04 Hard as They Come (Act I) (featuring Freddie Gibbs)
05 Murder (Act II) (featuring Big K.R.I.T.)
06 My Habit (I Haven't Changed)
07 Get Ignorant
08 Shattered Dreams
09 Stars Shine Brightest (In The Darkest Of Night)" (featuring Rick Warren)
10 So As Not To Wake You (Interlude)
11 Enemies With Benefits (featuring Tonedeff)
12 Looking Back (featuring Anna Wise of Sonnymoon)
13 Dreams (featuring Tunji and B.J. The Chicago Kid)
14 Hypnopomp (Epilogue) (featuring Bianca Spriggs)
15 Embers